Grill Barbecue Seasoning Salt
Item no. 252201
Home cooking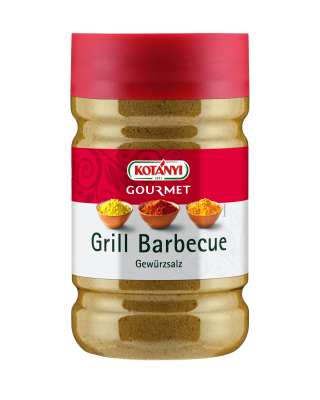 A mouthwatering thrill for grill: Kotányi Gourmet Grill Barbecue. This well-balanced blend of spices, herbs and salt adds a wonderful flavor to grilled meat.
Taste
Aromatic and slightly hot grilling flavor
Use
Kotányi Grill Barbecue is the perfect grill seasoning for all types and cuts of meat, including beef, pork, lamb and poultry.
Ingredients
Iodized table salt (table salt, potassium iodide), pepper, caraway, paprika, coriander, rosemary, marjoram, mustard seeds, parsley, cayenne pepper, onion, parsnips, carrots, celery leaves, chives, leeks, lovage, dill fronds
Allergen notice
Allergens: Cellery, Mustard