Mediterranean Potatoes Seasoning Mix
Item no. 742101
Home cooking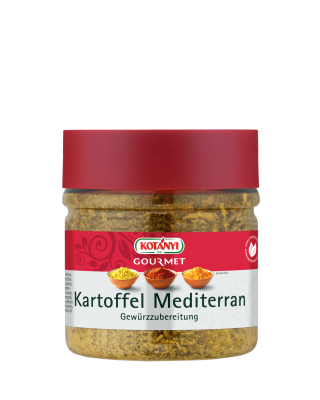 Bold floral flavor. Kotányi Gourmet have developed a new way to cook potatoes — an aromatic blend of specially selected flowers, rosemary and pepper.
Taste
Floral and flavorsome
Use
Kotányi Mediterranean Potatoes is the perfect addition to all potato dishes, but also goes great with fish, poultry and even tofu.
Ingredients
Iodized table salt (table salt, potassium iodide), onion, brown sugar (sugar, sugar cane syrup, caramelized sugar syrup), rosemary, pepper, cardamom, floral mix (calendula, peppermint leaves, red cornflower, strawberry leaves, blue cornflower, hollyhock), tomatoes, tarragon, lavender, safflower blossoms