1931-1960
Everything Changes
A New Flavor Experience With Every Spice
The availability of foreign spices means new recipes are gaining popularity. Every exotic spice offers the possibility of countless dishes and flavors. Kotányi's assortment of new herbs and spices inspire people to become passionate about trying new things, and cooking becomes more of an experience.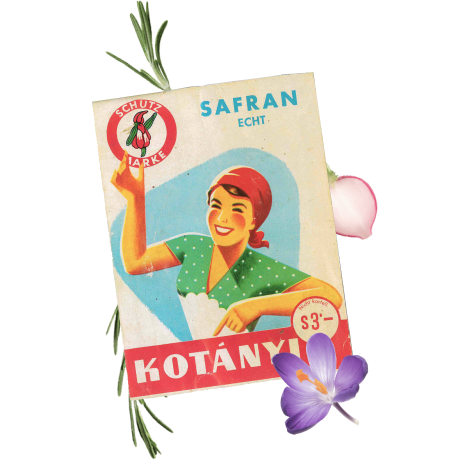 Advertising from the 1950s
Currently Viewing: 1 of
In the 1950s, a Kotányi advertisement decorates the facade of a house on Vienna's Nussdorferstrasse. Photograph: Daniel Gerersdorfer

Posters in small grocery stores speak a new visual language and illustrations are becoming fashionable.

In 1957, a tram line runs along the Mariahilfer Gürtel to Ullmannstrasse, transporting an advertisement for Kotányi throughout the streets of Vienna.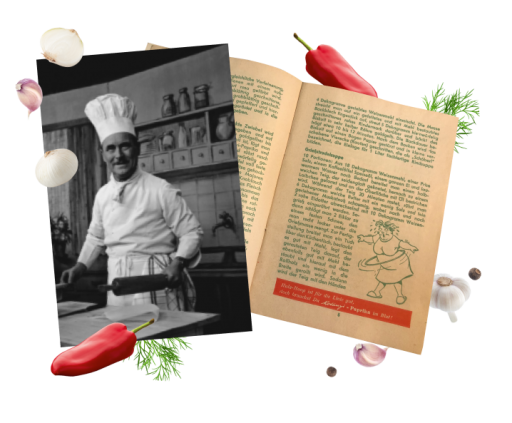 The Original Influencer
Throughout the 1940s and 1950s, popular TV chef Franz Ruhm is showing Austria a new way of cooking. He creates a number of mouthwatering recipes for traditional dishes for a Kotányi cookbook.
Franz Ruhm's Best Kotányi Recipes
This classic recipe for Wiener Schnitzel has been tried and tested for 70 years.

Franz Ruhm uses nutmeg to give this veal dish a particularly fine flavor.

Austria's first TV chef taught his audience how to cook traditional recipes such as this one.
The Joy of the New
In 1950, Kotányi's very first commercial is aired: "This goulash deserves to be called 'sir'."