1981-2000
Balanced and Bountiful
Inspiration for Healthy Indulgence
The 1980s sees a rise in food trends. In response, Kotányi offers inspirational new seasoning mixes and recipes for a healthy lifestyle. The family has been bringing a huge range of flavors to kitchens for 100 years. Erwin Kotányi is now at the helm, following on from his great-grandfather, János.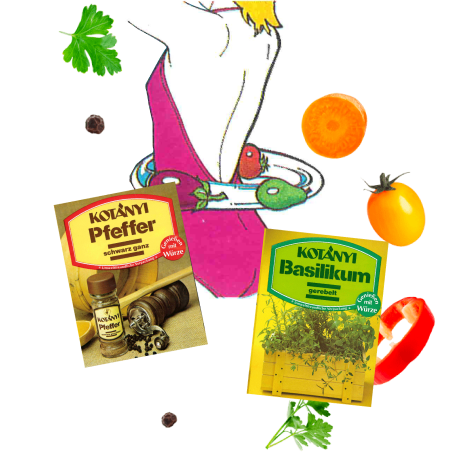 Slider
Currently Viewing: 1 of
Vegetarian dishes are becoming increasingly popular. Kotányi creates recipes aimed at celebrating this diet.

Kotányi has been selling paprika in silver packaging for almost a hundred years. János' tried-and-tested beef goulash recipe is printed on the side.

Environmental sustainability is becoming increasingly important. As a result, Kotányi is introducing environmentally friendly sachets.
Balanced Delicacy From a Star Chef
Cooking is becoming increasingly international and diverse. Thanks to Kotányi products, Asian, Mexican or Indian dishes taste just as good as they did on holiday. In his recipes for Kotányi, Ewald Plachutta presents balanced dishes from Viennese cuisine with hints of international influences.
Ewald Plachutta's Kotányi Recipes
Unrivaled since the 1980s: Ewald Plachutta's tender rabbit saddle is timelessly delicious.

Crab, mussels and three types of fish are enhanced with paprika to create an outstanding dish.
Advertising With A Pinch of Spice
The 1990s are characterized by colorful fashion, dynamism and joie de vivre. This is reflected in Kotányi's commercials.