Travel to Far-Off Lands Through Spices
Wanderlust entices people to foreign lands. But for many, long-distance travel is an impossible dream. So instead, spices from far-off places bring a taste of India, Jamaica or Zanzibar to their kitchen. Our sachets also feature colorful illustrations of the most beautiful parts of the world.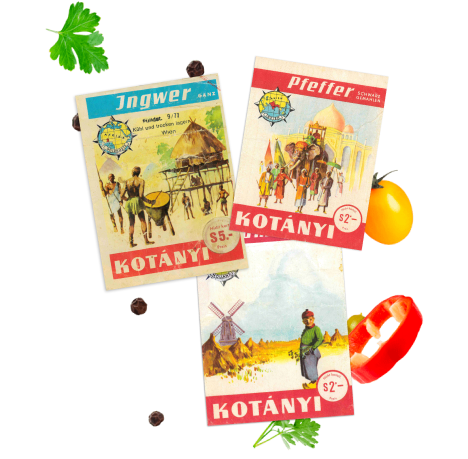 Advertising Becomes Colorful
Currently Viewing: 1 of
In 1970, Kotányi releases an animated advertisement. The figures are also used as illustrations in the new Kotányi cookbook.

Kotányi sachets from the 1970s depict the places of origin of the herbs and spices.

A tiny map on the Kotányi packaging shows where the spice came from: a pinch of India for two shillings.

A Kotányi spice glossary from the 1970s explains the best way to use herbs and spices. It contains spices that are less well-known today, such as salad burnet and sweet flag.

Alongside its recipes, this cookbook also contains rhymes such as "Not in the mood? Now don't be absurd! Kotányi paprika in your goulash will give you a stir!"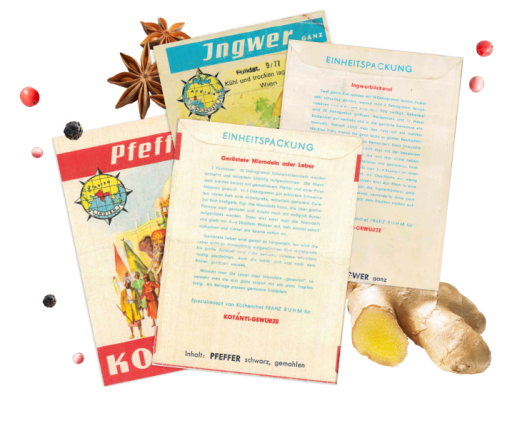 Delicious Recipes for All
Kotányi prints recipes on the back of spice packets so that as many people as possible can try TV chef Franz Ruhm's delicious dishes. We are republishing a selection of particularly popular recipes, unchanged from their first publication.
The Best Kotányi Recipes from the 1970s
This classic from the 1970s was commonly enjoyed with boiled potatoes.

These mildly spiced cookies with fiery ginger bring a whole new flavor to your cookie jar.